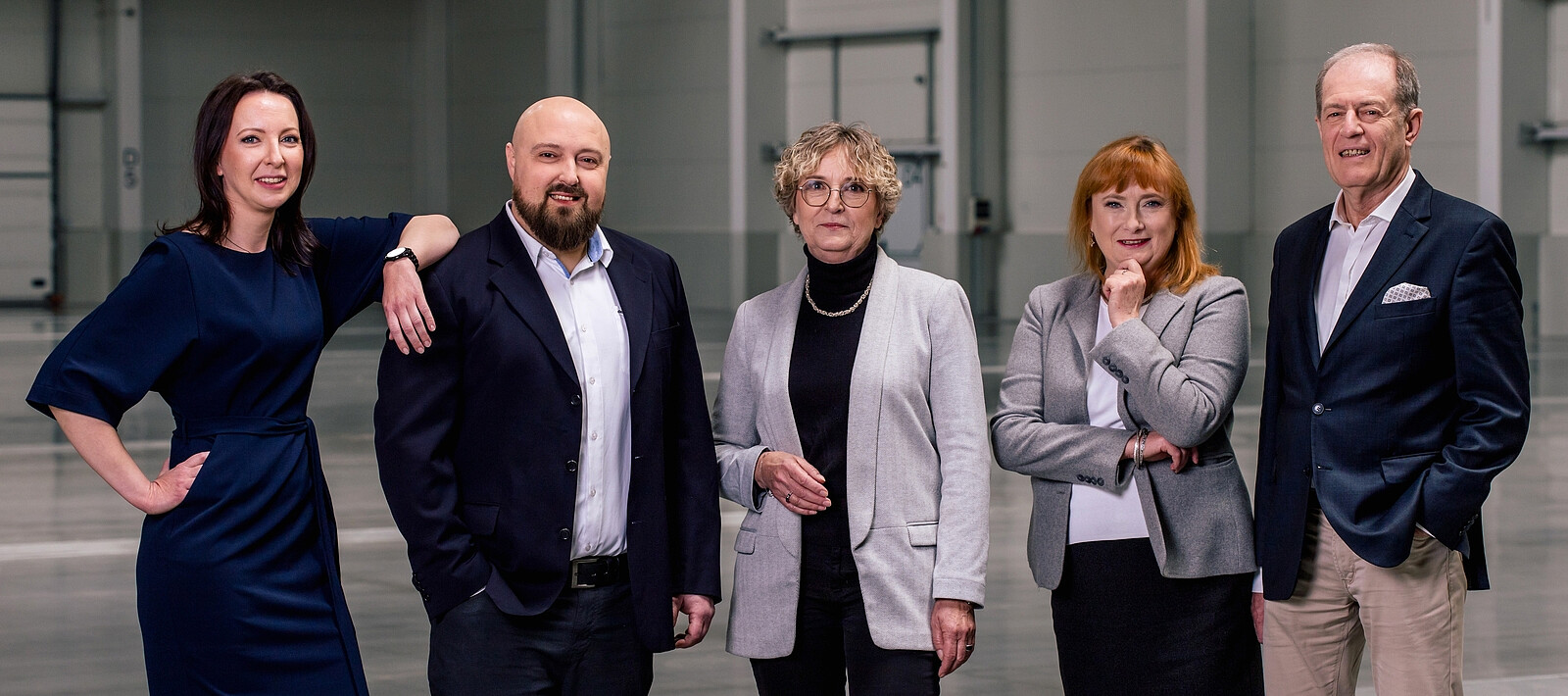 Grażyna Grabowska

President

Co-founder of Targi w Krakowie. She earned an MA in Polish and Film Studies from the Faculty of Philology of the Jagiellonian University and completed a postgraduate programme in public relations. Between 1990 and 1993, she headed the culture section and served as deputy secretary to the editorial board of the Kraków branch of the "Gazeta Wyborcza" daily. In 1993-1996, she headed the Advertising Department at the Kraków EXPO CENTRE. She is a founding member of the Foundation for the Development of Culture and the Polish Association of Exhibition Organisers. Since 2004, she has also sat on the Audit Committee of the Polish Chamber of the Exhibition Industry, then the Board of the PCEI, and finally, as of 2015, its Vice-President. In 2013, she won a Decoration of Honour Meritorious for Polish Culture and the Silver Cross of Merit, awarded by President Bronisław Komorowski, followed by a Honoris Gratia medal in 2014. A year later, she was decorated with a medal for her Contributions to Economic Growth. At TwK, she oversees the departments of exhibition organisation and promotion. She prefers to rest far away from the hustle and bustle of the city, loves jazz and movies and is passionate about genealogy.

Ewa Woch

Vice President

Co-founder and Vice-President of Targi w Krakowie, with more than 25 years of experience in the congress and exhibition industry. She graduated from the Jagiellonian University and the Polish-French School of Management at the University of Lille. Between 2008 and 2015, she worked as a Managing Director at easyFairs Poland Sp. z o.o. She won a Honoris Gratia medal for her contributions to the City of Kraków and was named as Manager of the Year in the Leader of Małopolska competition in 2015. She is also a member of the board at the Chamber of Commerce and Industry in Kraków. At TwK, she focuses on cooperation with Polish and international partners, creates new exhibition and congress events, supervises the departments of congresses (PCO) and EXPO KRAKÓW rentals. Privately, her greatest passion is travel, especially to the farthest ends of the world. Of all the continents, the only one she hasn't seen is the Antarctic, but this is also on her bucket list!

Paweł Nikliński

Vice President

Co-founder of Targi w Krakowie. He earned his MSc in Computer Science at the Faculty of Mathematics and Physics of the Jagiellonian University. Between 1989 and 1998, he was the president and co-owner of DEXTER Sp. z o.o., one of the first private Congress Offices in Poland. In 1991, he won a SASAKAWA PEACE FOUNDATION scholarship in Tokyo. In 1990, he joined the Junior Chamber International; in 1994, he was appointed as a local president of the organisation and in 1996, as its senator. He won a Ducat of Kraków award in 1997. Since 1996, he has been a member of the Klub Krakowski Association, which brings together business people, academics and social activists, who contribute to the social and economic growth of Kraków and the region; in 2014-2018, he served as the vice-president of the association and in 2018-2022, as its president. He was awarded the Honoris Gratia medal for his contributions to the City of Kraków. At Targi w Krakowie, he is in charge of finance, IT and investment. In 2008-2013, he sat on the board of easyFairs Poland Sp. z o.o. Privately, he is a fan of Alpine skiing, middle-distance running and family photography.

Małgorzata Borowiec

Board Member/ Chief Accountant

Graduate of the University of Economics in Kraków, where she completed a programme in accountancy and management, employment law and computer science. She joined Targi w Krakowie in 2002 and has served as its chief accountant since 2014; in 2020, she was also appointed as Board Member. She is responsible for strategy development and implementation in the areas of finance and HR management. Her focus is on streamlining and implementing new processes. She is also responsible for well-being and CSR policy implementation at the company. Since 2020, she has sat on the Board of Taxation of the Lewiatan Confederation as a representative of the Polish Chamber of the Exhibition Industry. Privately, she is a firm believer in the Danish hygge philosophy. She loves spending time with her family and friends, enjoys good food, walks and reading on the sofa, wrapped up in a blanket. She is also a fan of stand-up comedy and improvisational theatre.

Marcin Bugajski

Board Member/ Technical & Administrative Director

At Targi w Krakowie since 1999. His career journey started in the sales department of the HORECA® trade show, where he also served as a booth construction expert. In 2008, he took over the technical organisation department and was later appointed as the Administrative and Technical Support Director at EXPO Kraków in 2014. As of 2020, he is also a Board Member at TwK. He is responsible for the technical maintenance of EXPO Kraków and the logistics of any events that take place in the centre. He focuses on supporting and streamlining the operations of TwK in terms of technology and organisation. In private, he is fascinated by everything Italian and can hardly imagine a morning without a cup of strong, aromatic espresso. He loves good food and is at his most relaxed in the company of family and friends.